Prestonfield House Hotel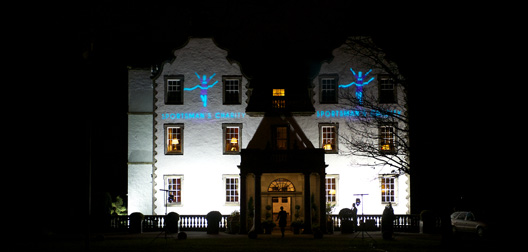 Since its founding The Sportsman's Charity has enjoyed a warm relationship with Prestonfield House Hotel, with many of its events having been held in its unique and sumptuous surroundings, it has almost become the Charity's spiritual home and we have been fortunate to have the generous support of hotel patron, James Thomson OBE.
Built in 1687 as the grand baroque home of Edinburgh's Lord Provost, Prestonfield is now Edinburgh's most luxurious five-star hotel with 23 stylishly opulent rooms and suites.
Opulence, theatre and luxury are combined in James Thomson's reworking of this A-listed mansion, a very personal creation with a fusion of historic architecture, an extensive collection of art and antiques, and a décor every bit as richly colourful as the history of the house itself. In addition to the dramatic bedrooms and sumptuous suites, there is a destination restaurant, Rhubarb, alongside a collection of stunning private dining rooms, salons and public rooms. Prestonfield has been at the heart of Scotland's artistic, social, business and political life for over four centuries – be a part of it!
Latest News
Event photos
Photo galleries available for 2017 events :-
Halloween SCREAM Ball
The Sportsman's Charity Golf Classic
The Sportsman's Charity Dinner
2017 Charity Dinner
The very successful Sportsman's Charity Dinner 2017 was held at Prestonfield on Friday 3rd February 2017 on the eve of the Scotland v Ireland 6 Nations match, the main sponsor being Scotia Security Group.
The dinner raised over £60,000. This allowed us to support both our featured charities, Drum Riding for the Disabled Edinburgh and Ocean Youth Trust Scotland along with many other charities.
For photos and more details of this event please look at the report in the Events section.