The Sportsman's Charity Dinner
Prestonfield House Hotel
Friday 22nd February 2013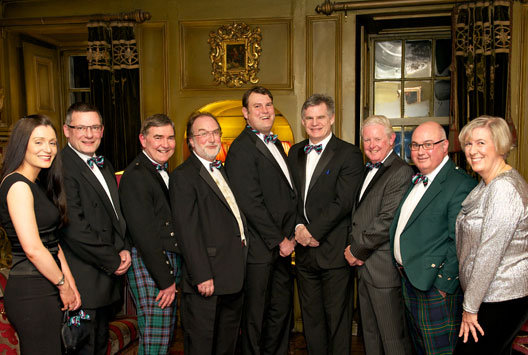 The 2013 Dinner celebrated the Charity's 30th anniversary in some style with over 400 guests being wined and dined superbly by Prestonfield followed by a fantastic line up of speakers hosted by John Beattie. As usual The Sportsman's Charity Dinner forms an established of a Home Nations rugby weekend and with Scotland playing Ireland the following day we had the pleasure of quite a number of Irish friends.
The 2013 line included:-
John Beattie - Host
One of Scotland rugby's great No. 8s, he played for Glasgow Accies, Scotland and the British and Irish Lions. John won 25 caps for Scotland, being in the last Scottish team to beat England at Twickenham, in 1983, and that by a record score for that venue, 12-22 John currently hosts the weekday lunchtime news programme on BBC Radio Scotland, writes a rugby blog on the BBC rugby website and on both radio and TV is co-host of the magazine programme Sport Nation and a match day commentator and presenter on rugby.
Speakers
Jeremy Davidson
A rugby union lock who played club rugby for and captained Dungannon, Ulster, London Irish and Castres Olympique, He is now head coach of Stade Aurillacois.
Dougie Donnelly
Starting his 40 year career with Radio Clyde he joined BBC Scotland's Sports Department in the late 1970s presenting programmes Sportscene Live, Afternoon Sportscene and the network's coverage of rugby union, golf and many other sports. Dougie is currently lead presenter/commentator on the international TV coverage of The European Tour which is transmitted to around 60 countries worldwide, Dougie travelling to around 20 golf tournaments a year
Simon Evans
A hit with the 2013 guests, Simon is an established act on the UK stand up comedy circuit with an increasing profile in both TV and radio. He is a stalwart of Radio 4 Comedy, featuring in, among others, the News Quiz, Armando Ianucci's Charm Offensive, The Unbelievable Truth and many others. His other skills include juggling, law and writing erotic fiction so we were guaranteed great entertainment.
The 2013 Dinner raised more than £50,000. The two "Featured Charities" were Scottish Association for Mental Health (SAMH) and "Drive Forth for Teenage Cancer Trust" who between them received £28,000. Other smaller charities such as Cystic Fibrosis Holiday Fund, Clovenstone Amateur Boxing Club, Lifespan and The Hearts & Balls Charitable Trust were also beneficiaries.
The 32nd Annual Sportsman's Charity Dinner takes place on Friday 7th February 2014 at Prestonfield.
If you are interested in taking a table or tickets as an individual or smaller party please contact Harry Richmond at har@sportsmanscharity.com