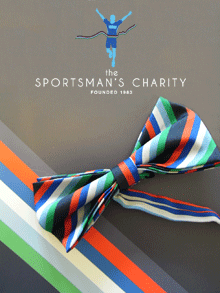 THE SPORTSMAN'S CHARITY
Founded in 1983 The Sportsman's Charity has a reputation for running first-class events and distributing funds to a wide range of primarily Scottish charities working in the fields of sport, children and young people, disability and the disadvantaged.
Each year, the Charity identifies two partner organisations which will receive a significant proportion of the funds raised at The Sportsman's Dinner.
In recent years the charities have included Combat Stress, Hearts and Balls, Beyond Boundaries, My Name's Doddie Foundation, Edinburgh School Uniform Bank, Teenage Cancer Trust and Edinburgh Community Food.
In 2020, the two partner charities were The Eve Appeal and the Tom Smith Testimonial Fund.
As well as supporting some of the larger established charities, The Sportsman's Charity takes a special interest in smaller organisations for which a modest donation can make all the difference.
If you would like to support the Charity, have a look at our Supporters page, or get in touch with us through our Contact page.


Latest News
Our Second Charity Ambassador
The Directors of The Sportsman's Charity are very pleased to be able to announce that one of the UK's favourite comedians, Simon Evans has agreed to become our second ambassador.
Appointment of our First Charity Ambassador
We are delighted to announce that Chris Paterson MBE has been appointed as The Sportsman's Charity's first ambassador.
Event photos
Photo galleries available for recent events :-
The Sportsman's Charity Dinner 2020
The Sportsman's Charity Dinner 2019
2020 Charity Dinner
A very successful Sportsman's Charity Dinner 2020 was held at Prestonfield on Friday 7th February 2020 on the eve of the Scotland v England Calcutta Cup match, the main sponsors being Carbon Financial Partners and Prestonfield House.
The dinner raised over £50,000. This allowed us to support both our featured charities, The Eve Appeal and Tom Smith Testamonial Fund along with many other charities.
For photos and more details of this event please look at the report in the Events section.